About Us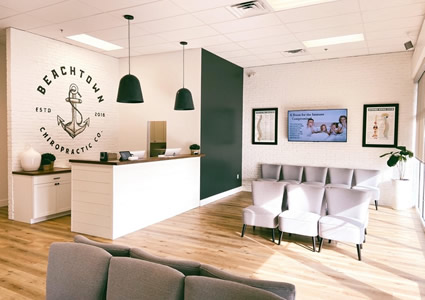 Dr. Tyler Gregory and his wife Alexis are originally from southeast Alabama. Growing up only a short distance from the beach, they would often vacation in Panama City Beach. They fell in love with the beautiful beaches, year-round sunny weather and friendly community.
Dr. Tyler attended James Madison University in Harrisonburg, Virginia for his undergraduate education and Life University in Atlanta to earn his Doctor of Chiropractic degree.
Before coming to Panama City Beach, Dr. Tyler and Alexis helped to grow the largest practice in the state of Alabama, and saw first-hand the importance of chiropractic care for every member of the family. While in Alabama, they served hundreds of families each week, seeing everyone from pediatrics to geriatrics experience amazing health transformations.
When it came time to open their own practice, Dr. Tyler and Alexis decided to open Beachtown Health & Wellness in Panama City Beach. Dr. Tyler and Alexis were excited to join the growing beach community and offer objective health measures and specific chiropractic care to restore the body's natural healing ability.
What Could We Do for You?
Dr. Tyler welcomes all ages to his practice and has seen children with issues such as colic, ADHD, reflux and latching troubles all improve under specific chiropractic care. Many pregnant moms have enjoyed healthier, easier births, seniors have experienced less pain and more independence, and athletes have seen noticeable improvement in their performance and recovery under consistent chiropractic care.
With gentle, neurologically-based chiropractic care, Dr. Tyler has been a part of many people's personal healing stories.
Get Started Today
Contact our chiropractic office today to schedule your appointment! We have convenient new patient appointment times available now.
---
About Beachtown Health & Wellness | (850) 238-3314